What are your necessary equipment when you are planning to snorkel?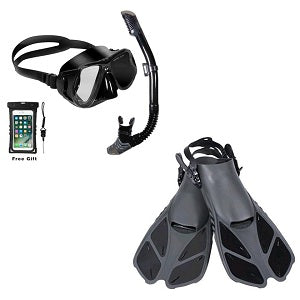 As we all know, when summer is coming, we are willing to snorkel in the sea. So what will be your necessary equipment when you are going to snorkel?

Good snorkel equipment makes your time in the water a joy.
Today, I will introduce some basic snorkel gears to you. There are just three pieces of snorkel equipment that you have to have, a mask, snorkel and fins. Now you can start your happy snorkeling trip.


Besides these three essential snorkel gears, what also could you prepare for your snorkeling trip? 

Phone waterproof bag
In general, mobile phone is always along with us, so it's worth of taking when snorkeling.

Water-Resistant Sunscreen 
Protection from the sun in particular deserves your full attention. 

Rash Guards for sun protection
Using sunscreen is good, but when we go in and out of the water several times in a day, it becomes a pain to re-apply every time. So we wear long sleeve rash guard shirts when we snorkel. 

Snorkeling Camera
Although not an essential piece of snorkel equipment, a waterproof snorkeling camera is great fun to have and use, to record your experience.
Now check your snorkeling gears, preparing what you most need, and  you will have fun during your snorkeling travel.